As a Professional Employer Organization ("PEO"), C2 helps many corporate clients navigate the full recruiting life cycle. For many companies, that means providing them guidance about recruiting and hiring skilled workers from other countries, which requires the employees to obtain a Visa if they will be working in the United States. For highly educated and skilled employees, the most common type of visa is the H-1B.
The H-1B visa is a non-immigrant Visa category that allows U.S. companies to petition for highly educated foreign professionals to live and work in the United States in specialized fields such as IT, finance, accounting, architecture, engineering, mathematics, science, medicine and many others similar professional disciplines. Once foreign professionals attain an H-1B visa, they may hold the H-1B visa status for up to six (6) years. The H-1B visa is renewable every three years, if approved by the United States Citizenship and Immigration Services (USCIS).
A. H-1B Visa Registration Process
In December 2019, the U.S. Citizenship and Immigration Services ("USCIS") made a change to a H-1B visa registration process, including the number of visa's available in fiscal year 2021 (beginning October 1, 2020). The purpose of this new process is to reduce the burden on U.S. employers and the agency from requiring employers to submit H-1B petitions and supporting documentation prior to knowing whether a H-1B visa number will be available. While USCIS has not placed any limit on the number of registrations a U.S. employer may file, the employer must attest that it intends to file an H-1B petition on the foreign national's behalf and cannot submit more than one H-1B registration per foreign national.
If USCIS receives more H-1B registrations than there are H-1B visa numbers available, then USCIS will conduct a lottery. USCIS will select registrations for the 65,000 H-1B visa numbers first and then for the 20,000 master's exemption visa numbers. USCIS will send notification to employers electronically if it selects a registration to move forward in the visa process. USCIS also will give the U.S. employer at least ninety (90) days to file its H-1B petition.
On April 1, 2020, USCIS announced, "Nearly 275,000 unique registrations were submitted during the initial registration period. Roughly 46% of all registrations were for prospective beneficiaries with U.S. advanced degrees." The number of unique registrations – nearly 275,000 – is more than three times the H-1B annual limit of 85,000.
B. Unpacking the H-1B Visa Lottery Process
On January 31, 2019, the Department of Homeland Security (DHS) finalized a regulation for a new process to submit H-1B petitions and conduct the H-1B visa lottery (a computer-generated, random selection process). A lottery has been used for the past several years due to the large number of H-1B applications (over 200,000 last year) submitted beyond the 65,000-annual limit and the 20,000 advanced degree exemption from the limit for new H-1B petitions each year.
In the past, until FY 2020, employers had to submit an entire H-1B package within the first five (5) days following April 1st to be considered for the H-1B Lottery. The data of the physical packages was fed into the online system and then a lottery or random selection was done. The new regulation has changed that process. Employers will now send in completed applications only after a petitioner (i.e., the employer) registers electronically for a beneficiary (i.e., the potential H-1B employee) and after the agency has selected that beneficiary via the random, electronic H-1B lottery process.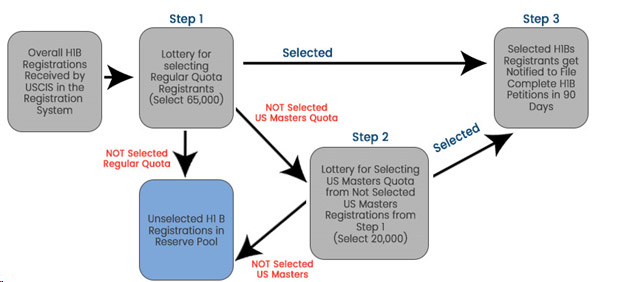 C. H-1B Visas Amid the COVID-19 Immigration Restrictions
President Donald Trump signed the "Buy American, Hire American" executive order back in April 2017, and The Trump administration has been gradually updating policies to align them with the presidential executive order on buy American and hire American.
The executive order to temporarily stop immigration amid the COVID-19 crisis only applies to new applications for permanent residency (green cards) and does not affect the H-1B visa program. However, the president has asked his administration to review temporary worker programs "to assess whether additional measures should be taken to protect American workers."
The DHS has also proposed another rule entitled "Strengthening the H-1B Nonimmigrant Visa Classification Program." If enforced, it will mean that the definition of specialty occupation, a key factor on which H-1B visa decisions hinge, could be revised to further limit those foreign nationals that are eligible for H-1B visas so as to better protect the American workforce.
In the meantime, the pandemic has reportedly forced temporary but significant delays in the processing of this year's H-1B visa applications, according to USCIS. The agency's entry of data and notification process to applicants did not even begin until May 1st. And the agency has cautioned that applicants should expect concomitant delays in the lottery system, as well.
D. The Bottom Line for Employers
The H-1B Visa system has always been, at best, an imperfect system. However, it is extremely unlikely the H-1B visa program will ever be scrapped completely, absent an overhaul of federal immigration law. Currently, the H-1B Visa system is the only way for firms to attract the best talent outside of the U.S. that will allow them to work and live in this country. And a record number of H-1B applications (275,000) were filed with USCIS's new electronic pre-registration system for the 2020-21 fiscal year. While the COVID-19 pandemic has caused delays in processing, there is no reason at this juncture to think that UCIS will halt H-1B visa's altogether. Thus, employers who have already submitted applications or who may need skilled foreign nationals in the years to come should familiarize themselves with the H-1B application and lottery process.
C2 provides strategic HR outsourcing to clients who want to develop optimal workforce strategies and solutions to allow them to be more competitive and profitable. C2 blog posts are intended for educational and informational purposes only.