---
What is a PEO?
Professional Employer Organization
C2 has championed small businesses for over two decades. We achieve this by providing a full range of critical services – from organizational development and change management consulting, to recruiting, payroll, employee relations, benefits and regulatory compliance. Our proven approach is both seamless and transparent.
How does the PEO arrangement work?
When businesses contract with C2 for PEO services, a co-employment relationship is created in which C2 assumes and shares certain employer responsibilities and liabilities. This comprehensive, full-service approach shields our clients from a labyrinth of risks, liabilities, and operational hazards.
Traditional Employment Relationship

Co – Employment Relationship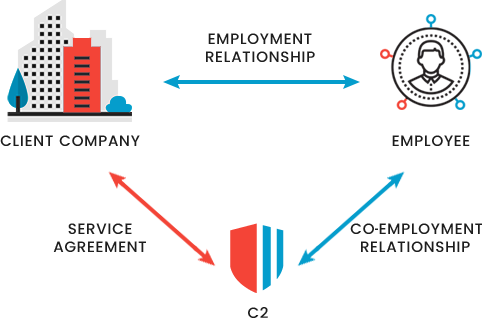 C2 assumes primary liability for many of its client's management responsibilities, including human resource management, human resource compliance, recruiting, payroll, and tax and benefit administration. We simultaneously maintain an effective employment relationship with our clients' worksite employees, while providing comprehensive human resource services and employee benefits packages. Meanwhile, our clients retain full authority to direct the activities of each employee, remaining committed to the success and growth of their core business mission. Regulatory and employer-related requirements imposed upon businesses have become both more frequent and complex. By entering into a co-employment relationship with C2, you gain a market-leader in HR compliance that will steer your operations towards full compliance.
Click below to learn more about how C2 can assist you with:
What is Co-Employment?
By entering into a co-employment relationship with C2, you continue to manage, control and supervise the performance objectives of each employee, as well as retain the complete authority to hire, terminate, and manage their day-to-day activities. C2 proudly assumes the majority of HR management responsibilities, and is supported by experienced teams of seasoned HR professionals who maintain backgrounds in employee relations, benefits, risk management, regulatory compliance, and related areas.
C2 assembles a team of experts skilled in different areas of HR who effectively manage:
HR Administration
Payroll & Tax Administration
Business Services (Owner Support)
Employer Liability Management
Government Contract Services
Recruiting & Selection
State & Federal Government Regulations
Training & Development
Worker's Compensation & Safety